Steve has been interested in neuroethology and animal communication since his undergraduate years at the University of Maryland.  He obtained his PhD in Neurobiology from the University of Chicago in 2004 where he used in vivo and in vitro neurophysiology and behavioral techniques to study cholinergic neuromodulation of song circuits in zebra finches in the laboratory of Dan Margoliash.  He then moved to Duke University where he performed postdoctoral work with Larry Katz and Rich Mooney. There he studied how natural odors are represented in the main olfactory bulb and how these representations are modulated by experience and noradrenaline.
Of course Steve buries marbles, what's wrong with you? But it's not like he's a psycho about it. He only buries enough to get the job done.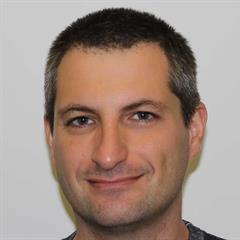 Roman Dvorkin
Postdoctoral Fellow
Shea Lab
Roman did his PhD studies at the Israeli Institute of Technology – Technion with Dr. Noam Ziv where he examined long-term activity-dependent and independent structural remodeling in cortical pyramidal neuron synapses. Roman joined the lab in November 2016 and examines the role of locus coeruleus in social behavior of female mice.
Roman buried marbles all over Israel for 26 years. When he ran out of places to bury his marbles, he decided to move to a slightly larger location at Cold Spring Harbor, USA, where he continues this noble deed with rediscovered vigor (for a normally distributed individual just at the edge of statistical significance)
Before coming to CSHL, Brittany completed undergraduate and Master's studies at the University of Saskatchewan in Canada. Here, she examined the role of LTD in memory. In Steve's lab, Brittany examines olfactory processing in granule cells. When she can, she hikes all over the Western hemisphere, burying marbles along the way.
Ally received her Bachelor's Degree from the University of Massachusetts Amherst, spent a summer working for the neural systems & behavior course at the Marine Biological Laboratory in Woods Hole, MA, and then spent four years studying a novel chemosensory gene family at Harvard Medical School in Bob Datta's lab. In the Shea lab, she examines experience dependent plasticity and its association with the onset of maternal behaviors following parturition. Outside of the lab she enjoys hiking, live music, and playing with her cat.
When Ally sees a marble, she buries it on the spot — she's never met a marble she wouldn't bury. This probably means she buries too many marbles, but in her own words, she "doesn't like the looks of them, like glass eyes peering into her soul."
Clancy joined the Shea lab in 2016. Prior to joining, he completed undergraduate studies at Northeastern University and worked as a research assistant in John Maunsell's lab at both Harvard Medical School and UChicago.  In the Shea lab, he examines noradrenergic input to primary sensory structures as well as changes in the auditory cortex following maternal experience.
Clancy doesn't always bury marbles, but when he does he prefers to cover at least one half with bedding. He generally buries marbles around NYC and Connecticut, and when he buries them, he exactly buries the average number of marbles for a normally functioning test subject.